Sunset

Unique autumn-themed map with constant battling!

Size

Medium

Length

10:00
Sunset is a map in Happy Wars. Also known as the bird map, the chicken map, the chicken gun map, or the Autumn map, Sunset has Autumn and bird or chicken themes. It is a medium sized map that is generally remembered by the powerful central cannon, known as the bird cannon. It is also known for the player launchers which are also known as chicken jumps. It has three Towers, each on an island separate from the castles.
Map Info
The Sunset map was released on October 12 2012, alongside the release of
Happy Wars
. This map has 3
towers
that you can control. This map also has the special mounted weapon, the bird cannon. You can fire up to 5 powerful shots with this weapon.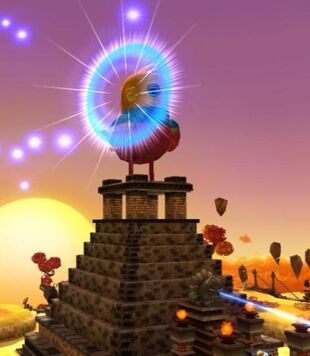 Strategies
Flank Route: Run to the side when exiting your castle (left side for Black and right side for White) and walk up the stairs to the launcher. Ride the launcher. After landing, run to the other side of the platform to the second launcher, ride the other launcher to land next to the enemy's Castle.
The Bird Cannon: The large bird statue in the center of the map is a weapon, you enter it like a cannon and ballista. However, you must own the tower next to it in order for it to be used. You are also vulnerable while using it due to the fact that your character stands outside of the weapon. 
To Prevent Bird Cannon Use: When your game starts immediately take the flank route. When going there, get backup. Obviously in quick match, people are going to use the flank route. So use the flower cannon on the flank route to prevent the other team from using that bird cannon and building the second tower, the flower cannon is your defense.
Trivia
The bird cannon can hit players who are mid-air using the player launcher and throw them off the map as an instant kill.
The bird cannon used to charge up the moment you got control of it, however, due to updates this was changed and now there is a delay.
This is the only Xbox Launch map that is not available on the PC's launch.

The only way to access this map legitimately on the PC version is through the map's associated campaign mission. There was a crash pre-1.4 that would render the aforementioned campaign mission unplayable. There are no plans for Toylogic to make this map a full map in the PC version.
Gallery
Community content is available under
CC-BY-SA
unless otherwise noted.