The Happy Cards Lite, Happy Cards and Happy Cards Limited Edition are all methods to obtain items in Happy Wars.
Happy Cards Lite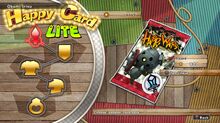 Happy Cards Lite
is a version of Happy Cards that uses
Happy Stars
instead of
Happy Tickets
. Each pack costs 900 stars to open and the item you get inside is random. It can range from a common up to a Super Premium. You can choose from any of the item categories to bet on, such as a weapon, armor, shield etc.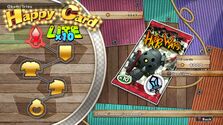 There is a version of Happy Cards Lite called Happy Cards Lite x10, this lets you open 10 packs at once, however this costs 9000 stars per pack as it is 10x the normal amount.
Note: Happy Cards Lite x10 does not have increased chances for better items compared to regular Happy Cards Lite.
But it's a great way to spend any excess stars you have!
The Happy Spinner was removed during the transition to Season 3.
Happy Cards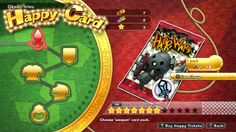 Happy Card Packs are purchased for 18 Happy Tickets. Each pack contains 2 Common Items and 1 Premium Item. There are card packs for each category of items (Weapons/Shields/Armor/Helmets/Accessories). At the bottom right side of the screen is a set of colorless stars that, as you open more packs, will become yellow. When all of them become yellow, you will activate Happy Time. Happy Time gives you a guaranteed chance to get a super premium item! You may get super premium items for opening a Happy Card Pack before Happy Time, but the chances are low, around 7%.
Happy Cards Limited Edition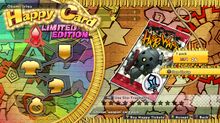 Happy Cards Limited Edition is another version of Happy Cards that costs 24 Happy Tickets per pack. Limited Edition offers different campaigns that usually change every 2 weeks. These can range from an increased Super Premium drop rate, or Item Snatch Campaigns that offers a more focused set of items, increasing your chance of getting something you want.

The probability of obtaining any Super Premium Item and the probability of obtaining a Weekly Featured Item are as follows:
Super Premium Items are obtained at 100% probability during Happy Time and at 7% probability at other times.
The probability of obtaining a Weekly Featured Item is 50% outside of certain Happy Card Limited Edition events of the Super Premium Item rate, meaning 50% chance during Happy Time and about 3.5% chance when not in Happy Time.
Trivia
Items that are won and are not in a player's item encyclopedia (receiving it for the first time) will have a shine effect behind it.
Community content is available under
CC-BY-SA
unless otherwise noted.