Desert

Bright map with action in the center and many traps!

Size

Large

Length

15:00
Desert is a map in Happy Wars. Desert is a large map, shaped like a figure-eight, with choke-points on all sides. The two castles lie on opposite sides of the map.  There are three Towers on this map. The middle tower is encircled by cliff paths as well as being on a spiraled cliff itself, and the other two are close to each castle and treacherous cliff ledges. The scenery is made up of sand, cacti, palm trees, and sand structures.
History
The Desert map was released on October 12 2012, alongside the release of Happy Wars.
Strategies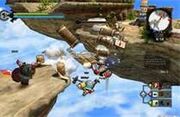 Flank Route: After leaving your castle, detour off to the right side avoiding the Antlion traps and ascend up the staircase and across the Bridge. Now run around the inner circle of the map to the enemy's Bridge. Cross the Bridge and head down the stairs to their Castle, once again avoiding the Antlion traps. You should end up on the right side of the enemy Castle.
Antlion Pits: Because Antlion pits slowly suck the player into its center, skills/attacks that stop as much movement as possible will often result in a kill via the Antlion. However, you can avoid the Antlions by walking or dashing upwards.
Trivia
This map contains Antlions that can kill a player instantly if they fall into the quicksand spiral and do not escape quickly enough.
Sacred Armor has been known to prevent Antlions from insta-killing a player. The Antlion simply breaks the armor and launches the player out of the pit.
Gallery
Community content is available under
CC-BY-SA
unless otherwise noted.